A few weeks ago, I requested an Expectations Setting Meeting with my team lead. Last Thursday I received an invitation from her through my Outlook.
Place:
Bizu GB
Time: 1:00 PM
I'm not adventurous when it comes to eating out. Well I am, a bit, but I'm more on the practical side. I would always go for quantity and value for money. I was quite hesitant. But, what the heck, it was Mia who invited me so I know the food there must be really good.
I got there a few minutes ahead of my team lead so I was able to scout the place and food before the meeting began. The first thing I noticed were the colors of the place. Everything was either in the shade of purple, pink, yellow or gold. I liked it. The place was so relaxing and a perfect place have long talks. Di kasi nakakasawa tingnan yung place. You will not feel uneasy. Everything was so relaxed.
Anyway, when my team lead arrived we decided to order and start the meeting. I ordered for Samba while she ordered for the Holiday cake. Samba has layers of chocolate mousse and chocolate cake. It is covered with rich chocolate icing and a bit of caramel syrup. It also has some pieces of decorated chocolate plates. Sounds simple and regular diba? But when you see the presentation and you have your first bite. Grabe ang sarap! I never thought I will be able to finish the whole thing but I did.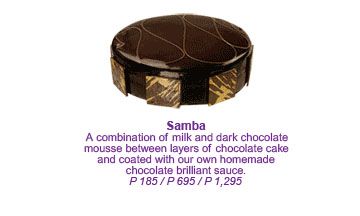 About the price, I know it would be difficult for some to shell out Php 185 for a piece of cake. But believe me it's all worth it.
Thanks to Mia I'm now learning to have a different appreciation for food. I learned from this experience that food does not have to be a whole heap to be enjoyable. So I guess you would be seeing more of me in Bizu. I'm looking forward to tasting all their cakes. I hope you are too. Just don't forget to run that extra mile or take the stairs instead of the elevator when in the office. I'm sure you know why. =P
Oh,I would also like to mention the Macaron de Paris and how yummy it is. It is currently available in 15 flavors: Raspberry, Rose, Blueberry, Hazelnut, Caramel, Coffee, Chocolate, Vanilla, Lemon, Mango, Pistachio, Earth (Chocolate and Rosemary), Wind (Chocolate and Mint) and Fire (Chocolate and Chili). You should try it.