Hay sa wakas nakapag blog na rin! Grabe ang tagal tagal ko ng di nag blog. It's not that I had some sooo important events to tell. Inaatake lang ako ng aking pagka OC. Grabe a month! Ibang klase. I don't know now how to summarize what happened in that whole month na di ako naka blog. Ahhh alam ko na!

Why weren't you able to blog?

Hay! It's as simple as bumigay na ang monitor namin. Kainis nga eh. So ayun asa shop siya ngayon for repair. My pc kasi comes in a set. Hp siya and as far as I know ang Hp they don't sell na monitor lang or CPU lang. Plus I like my monitor it has a built in mic and speakers na. Kaya ayun it's under repair na for 3 weeks now.


Eh if your monitor is being repaired, ano ginagamit mo ngayon?
Ahhhh my oh so sweet bf lent it to us. He bought a new set na kasi and this monitor was from his old set. It's a Sun microsystems monitor na he got from his last job.
Under repair ang monitor for 3 weeks, eh you haven't been blogging for a month already, hmm...
Good question! Ang smart mo ha! Parang ako =P Hmm wala lang. Tinatamad. I was on a one week VL (vacation leave) pa that time ha. If only I knew that this is going to happen, I would've blogged every single day of that week.
So ano na kuwento? What happened in that one whole month?
Wala! Nothing important really. Small updates na lang like before. I'm really having hard time organizing my thoughts now. Kalat kalat grabe!
**********
Updates from my Analytics training. My instructor, Paolo, turned out to be Portugese. He's just assigned in London now. Which explains why I didn't have a hard time understanding him. Wala kasing trace of any British accent. Sayang I didn't had the guts to ask for a group picture.
**********
There was this perfume sale in RCBC. I bought 4 bottles of perfume in 2 days. If you really know me di ka magugulat. I love perfumes. Actually, even colognes. Basta weakness ko ang mga unique scents. I bought D&G light blue (100ml), Bulgari (100ml), Lanvin Eclat (100 ml) and Sander for men (100 ml). Hay grabe you should've seen me while I was at the store. I was like a child entering Willy Wonka's Chocolate factory! It felt like heaven. I used my credit card kasi eh. Pagdating ng bills I'm sure iba na ang feeling ko. Di ko pa rin nabili yung Lacoste Gold. I was torn between that and Lanvin kasi eh. I chose Lanvin na lang coz it's kinda unique. Konti lang ang may alam. Plus I saw sa Rustans na a 50 ml bottle of it costs Php3800! Hay believe me I bought it much cheaper than that at 100 ml pa ha!
After seeing the bottles, I felt happy but at the same time a little guilty. Grabe super dami. I promised myself na I wouldn't buy any perfume na muna till next year or hangga't maubos 'to. Tsk tsk tsk.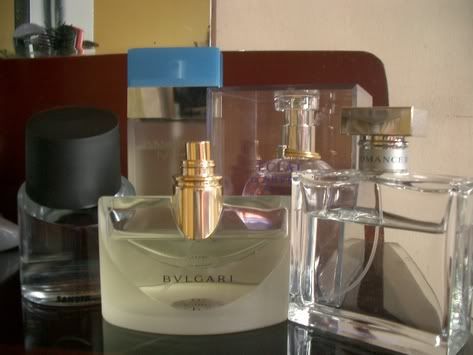 **********


Food trip kami lately ng Siebelles. We've been using our team building funds sa pagkain kung saan saan. Even yung banana que sa Gabriella Parking and fish balls sa Ayala Ave eh pinatulan namin. Fun fun fun. Good food and nice conversation with the best team ever! I am so blessed to be part of this group.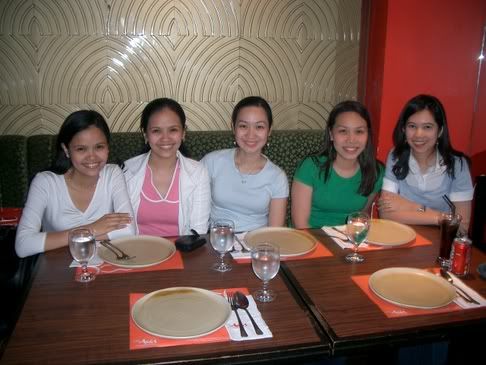 **********
We went to EK last Saturday (11.26.05). Team building ng TMS (project ni Chuck). Wala lang. Fun! Thank you sa pagsama sa akin sa budget.
***********
Yan na lang muna. I just want to post something kahit paano. =)